Vietnam Airlines Group makes $2.24 billion in revenue – Economy – Vietnam News | Politics, Business, Economy, Society, Life, Sports
Vietnam Airlines' Boeing 787-9 Dreamliner. Vietnam Airlines says its consolidated pre-tax profit was estimated at VNĐ1.65 trillion in the first half of this year, up 30 per cent compared to the plan. — Photo Vietnam Airlines
HÀ NỘI — Vietnam Airlines Group, listed with code HVN, earned nearly VNĐ52 trillion (US$2.24 billion) in consolidated revenue in the first half of this year, marking a year-on-year increase of 5.5 per cent.
The information was released on Tuesday showing that its consolidated pre-tax profit was estimated at VNĐ1.65 trillion, up 30 per cent compared to the plan.
Of the figure, the parent company Vietnam Airlines reached VNĐ38.3 trillion in revenue and VNĐ1.79 trillion in pre-tax profit, increasing by 5.8 per cent and 21.8 per cent year-on-year, respectively.
Vietnam Airlines said that continued improvement in cash flow enabled higher solvency, more short-term investments and increased corporate income. As of June 2019, the airline continued its positive financial indicator with debt to equity ratio (D/E) of 2.32 times, lower than that of the beginning of the year (2.58 times), and far below the upper limit set by the State.
Over the course of six months, Vietnam Airlines safely flew over 13.9 million passengers, a 2 per cent increase from 2018, and over 180,000 tonnes of cargo, up 1.6 per cent year-on-year, on 73,650 flights. Its on-time performance (OTP), averaging at 90 per cent, remained among the highest globally. Demand-responsive load factor led to significant fuel saving and higher seat utilisation of 80.3 per cent.
Vietnam Airlines Group (including Vietnam Airlines, Jetstar Pacific, and VASCO) continued to spearhead the local aviation market, carrying approximately 51 per cent of the market share in passenger volume.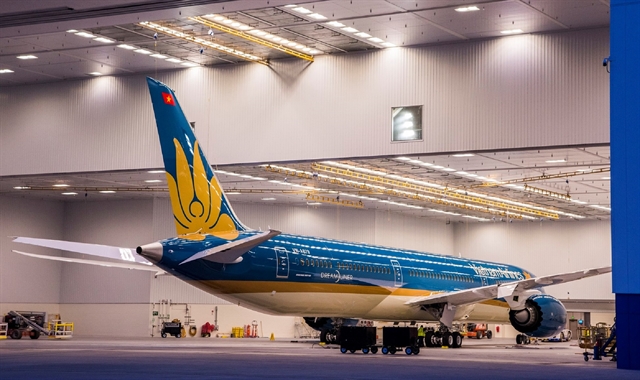 The airline will welcome its first Boeing 787-10 Dreamliner to its fleet in August 2019.  — Photo Vietnam Airlines
Having boosted its charter capital to more than VNĐ14.18 trillion, Vietnam Airlines had its own shares (HVN) officially listed on the Hồ Chí Minh Stock Exchange (HOSE) on May 7, 2019. 
In the second half of this year, Vietnam Airlines plans to push for organisational restructuring, completing its 20 narrow-body Airbus A321neo fleet, taking delivery and operating the first three wide-body Boeing 787-10, out of its order of eight aircrafts, and finalise the investment plan of 50 narrow-body aircrafts for the 2021-25 period.
The firm said it will continue to improve customer experience by offering onboard Wi-Fi services, introducing a brand-new Business class menu and rigorous replacement of non-environment-friendly supplies onboard. 
Vietnam Airlines also introduced new and upgraded services such as in-town check-in (Hà Nội and Đà Nẵng), telephone check-in (HCM City), family check-in, meet and greet, as well as serving local produce onboard. Notably, the proportion of online check-ins has grown year over year, reaching nearly 50 per cent at all three major domestic airports, Nội Bài, Đà Nẵng, and Tân Sơn Nhất. — VNS